Please welcome my guest blogger, Arlene from LMNTree! She has a fascinating background and her products show she really know our little guys and their needs. I've used many of her ideas and products in my classroom and the kids absolutely love them!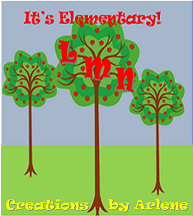 I'm so excited to guest blog for Sally today. My name is Arlene and I blog over at
LMN Tree
. I've spent most of my teaching career in the elementary grades as a regular class teacher, Special Ed Teacher and finally an ESL Resource Specialist. After moving around the world with my army husband and my children, we spent the last 10 years in Anchorage, Alaska where I was an ESL Resource Specialist at a Title I elementary school. The challenges were overwhelming as I was responsible for over 250 ESL students not only in my school but 5 others in the district.
Having grown up just 18 miles north of NYC I dreamed of being on Broadway one day. Well that never happened, so I turned my passion and creative side to writing poems, chants, and plays for my students wherever I taught. If you have struggling readers or ESL students in your classrooms you know that they are very reluctant to participate in class activities. They are afraid of making mistakes and having others make fun of them. What I found is that they loved being part of chanting, poetry activities, and plays as they felt safe to take a risk when everyone was participating at the same time. Not only that, but it was a great way to get the whole class up and moving. Even if they couldn't read the chant they loved doing all the actions! It was a win-win for all. It was so wonderful to these these students smiling and laughing and feeling like they belonged.
October is the perfect month for poems, chant, and plays. Here's a fun chant for your students to act out about Football. What a great chant for finding compound words.
You can find this poem and others about Pumpkins, October, Fire Safety and more in my October Poetry Unit. Just click on the image below to check it out.
Did you know that October was National Popcorn Popping Month? Here's a fun poem about Popcorn and a Punctuation Activity which you can download free by clicking on the image below.
If you would like to find out how you can get this free fall play just click on the image below!
Thanks for letting me share a little about myself and my passion. Thanks for making a difference for all the students in your classrooms. Hope you have a great fall!