Click to see Linky Party!
My friend Michelle at
Teach 123
is having a Pinterest Linky Party! I'm a huge fan of Pinterest. I usually manage to spend time on there almost every day. I find if there's something I want to share with my students, I'll just pin it to one of my boards, then I'll be sure to be able to find it quickly when I'm at my laptop/ projector. I have 106 boards at this time, all teacher related. (I do have big plans during vacation to reorganize my boards!)
Many of my boards are collaborative boards, which means there are many ideas and resources being pinned on each topic. Here are some of my favorites:
Click image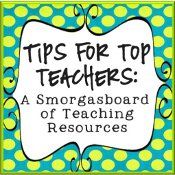 Top Teachers Smorgasboard has almost 30,000 followers, so it's clearly doing something right! It's maintained by a collaborative blog of the same name, which has some of the highest quality teacher bloggers I know as contributors!
Click image
Pinteresting Teacher Blogs was started by the amazing Fern Smith, and is a great place to find quality blog posts related to teaching!
Click image
A+Collaborating Teachers is another of my favorite collaborative boards. This board was formed by a group of teacher bloggers who love to pin great teacher ideas. You'll find blog posts, freebies, and products related to just about anything you might need for your classroom!
But then, of course, you can always just follow all of my boards! My favorite personal boards are in the top row of my homepage.
Click image
If you've been following my blog, you know that I'm fascinated by brain research, and I tend to pin just about anything I find of interest about the brain. That's the board I take the most pride in!
If you haven't discovered Pinterest yet, it's time you got hooked like the rest of us!