Wow, February is almost here, and it's a might busy month! We do have vacation week to look forward to, (Yippee!) But there's a lot of activity between now and then!
We have Groundhog Day and The Super Bowl coming up this week! (Those of us from New England are VERY excited to see our Patriots going to the Super Bowl this year!) The next week has Day 100, then the week after that has Valentine's Day. Then the week after that is President's Day as well as the Invention Convention in our school. Whew, I'm exhausted just thinking about it! Oh yes... and we have a whole bunch of stuff to teach as well! Of course, I didn't even bring up Chinese New Year or Mardi Gras. I like to mention these days as well, since it brings in the cultures of other countries, which I love to do. But we just can't do everything!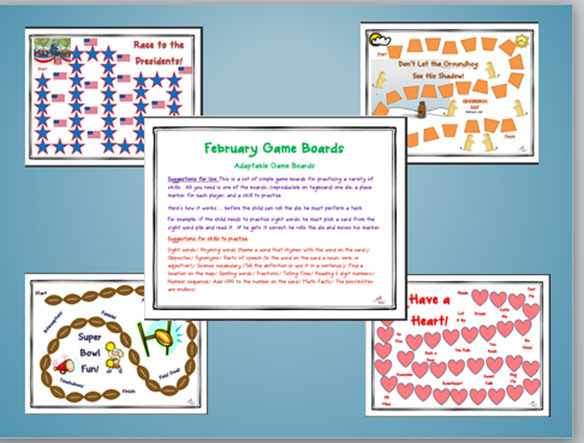 Keeping that in mind, I've been busy preparing some game boards and game cards so we can celebrate these big days without giving up learning. I made 6
February "Flexible" Game Boards
, which can be played to practice any skill. I made one for Groundhog Day, Super Bowl, Day 100, Valentine's Day and President's Day, as well as one that can be used for birthdays.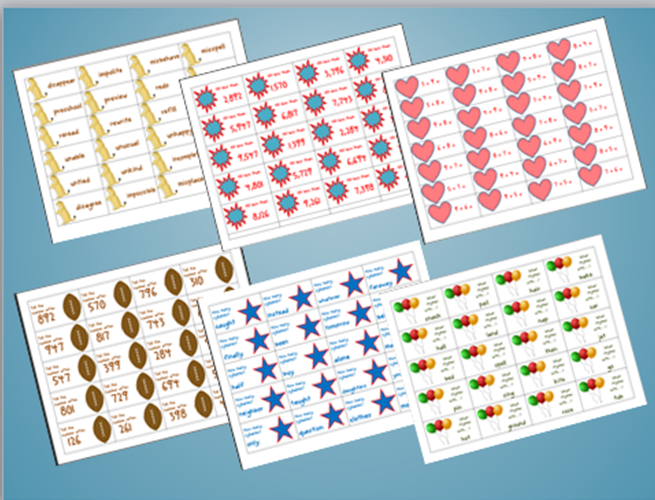 Then I got motivated, I thought about the skills the children would be learning for the next few weeks, and made a set of
February "Flexible" Game Cards
to match each board based on that. Now I'm all excited to use these in the classroom! I have a set of ground hogs to practice prefixes and suffixes. I have a set of hearts to practice basic addition and subtraction. Then there's a set to go with the Day 100 board that gives the kids practice adding or subtracting 100 from 4 digit numbers. (I'm particularly proud of that one!) The football set is sequencing 3 digit numbers. The President's Day set practices syllables and the birthday set practices rhyming words. I think the kids will enjoy it. Now I've got some cutting and laminating to do!
Enjoy the last couple of days of January! Didn't it go fast?
Sally