I can honestly say the hardest part of this holiday season is trying to decide which holiday ideas to use in my classroom. Between Thanksgiving and Christmas, there are exactly 20 school days. (Yes, we go all the way to the 23rd!) There are a whole lot of fabulous ideas out there! In fact, there are so many, there is no way I could use them all! As a matter of fact, there's no way I can use even some of them and still do all the "have tos" for my school district.
Here's a huge example: Rachel Lynette of
Minds in Bloom
collected holiday ideas from 50 teachers and compiled them into a FREE book! It's over 50 pages with tips, freebies, and reproducibles on each page. Just this resource alone would keep you busy for the season. (Click the picture to download!)
But there's more!
Charity Preston from
The Organized Classroom Blog
put together this book of ideas on holiday parties. Lots of great ideas! While you're at her blog downloading the ebook, be sure to check out Charity's 12 Days of Christmas (free if you subscribe to her newsletter) and her link to her Winter Pinterest Goodies!
But there's more!
Denise of
Sunny Days in Second Grade
is sponsoring 5 days of Holiday Giveaways! Check it out!Even if you don't need the ideas, just reading her blog is a pleasure. While you're at it, be sure to check out Denise's Teachers Pay Teachers store. Lots of super ideas, and many freebies! I have to say, my own students have done several of these activities, and they love them! They are the perfect combination of practicing important skills and
fun!
Make it fun...that's one thing brain research has taught me... they'll remember it if it's fun!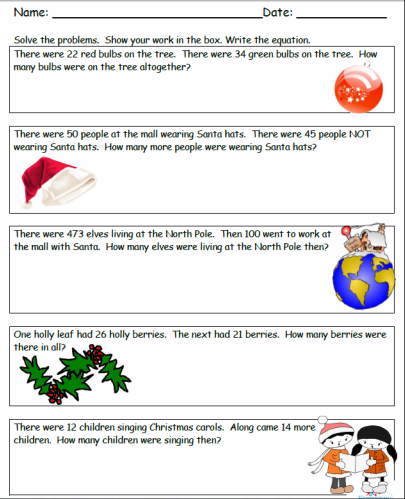 Click to download my free math pages!
I could go on and on, but life goes on, and my report cards are waiting. However, don't forget to go to my very own
Teachers Pay Teachers store
. I don't have much, and most of the stuff is free, but I sure do love to share what I have. And I really, really try to make it fun!
Hope you're enjoying the holiday season!
Sally